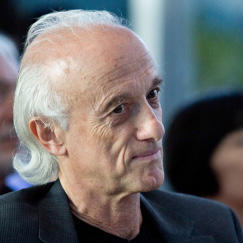 James Giroudon
France
James Giroudon was born in La Tour du Pin, Isère. He studied at the University of Lyon and is graduated from art history, sociology and education sciences. And he is a graduate of Pierre Schaeffer and Guy Reibel's class at the National Superior Conservatory of Music in Paris. From 1982 to 1990, he taught at the Conservatory of Music in Saint-Etienne, where he created an electro-acoustic music section.
Having founded GRAME with Pierre Alain Jaffrennou in 1981 in Lyon, he takes charge of the management and artistic quality, as well as international development. In 1992, in Lyon, he created the Musiques en Scène festival, which in 2002 became a biennial.
Also involved in curating exhibitions, in China, he has participated as a curator at Taipei Fine Arts Museum for the exhibition «Mobility, sounds and forms» (2010) and «Imminent Sounds» (2013-2014), and also at The 2011 International Electronic Music Week (EMW 2011). In 2014, he curated for «Around the Sounds» at A4 arts contemporary center of Chengdu.
As composer, he realizes several electro-acoustic music for concerts and large-scale musical events, as well as mixed works for soloists, instrumental groups and electronics systems. He has also written music for the theatre. In 1989 he received Le Prix de l'Académie du Disque Français for a record produced jointly with Musiques Numériques.